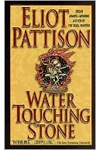 ABOUT THE BOOK
Publisher: St. Martin's Minotaur; New Ed edition (June 17, 2002)
The news that a venerated teacher has been murdered and a lama is missing sends an unlikely band of outcasts into the remote northern reaches of the Tibetan plateau. Two old Tibetans travel to restore the spiritual balance disturbed by violent death. A sullen resistance fighter races to battle a new foe. But Shan Tao Yun, former Beijing investigator and newly released from four years of prison camp, sets out to find justice.
In the dangerous borderlands of western China, however, justice is elusive. Vengeful officials, soldiers, smugglers, secret Buddhists, and the remnants of the proud Muslim clans all stand in the way of Shan's pursuit of a serial killer whose terrible motives lie buried in the Tibetan struggle.
FROM THE AUTHOR
While the characters and most of the places in this book are fictional, the struggle of the Tibetan, Kazakh, and Uighur people to maintain their culture and identity is very real. Many elements of this story are distilled from actual events in that fifty-year struggle, and from the rich and fascinating heritage of the Silk Road. The sands of the Taklamakan desert do indeed sometimes part to reveal ruins of lost Silk Road cities and tombs, and dedicated archaeologists from many nations do indeed work among the ruins, and do find ancient mummies and textiles, despite the political storms which rage around their work. Genetic research in the region and even scholarly assessment of scraps of cloth have attracted such political controversy that the simplest quest for knowledge in those distant quarters can be an act of heroism. And sadly, in Tibet the government of modern China has repeatedly interjected itself in the identification of reincarnate lamas.
AWARDS
Voted by Book Sense #1 of the "Best Reading Group Books of All Time"
Borders Books "Original Voices" selection
Barnes and Noble "Discover New Writers" selection
REVIEWS
"Water Touching Stone is a mystery but it is more than just a who-done-it … another triumph for fans of the Edgar Ward winning author." –The Midwest Book Review
"Few mystery sequels have been awaited with as much anticipation as this … a worthy successor to Pattison's Edgar-winning The Skull Mantra." –Publisher's Weekly
"A rich and multilayered story that mirrors the complexity of the surrounding land, where few things really are as they seem. It's rare when a mystery brings something fresh to the genre. Eliot Pattison accomplished this with The Skull Mantra, and is now back with another intruiging tale of Tibet. Pattison takes readers to a quietly troubled part of the world and peels away at the centuries of culture that have come into conflict." –San Francisco Chronicle
"Water Touching Stone is beautifully written and will stay with you long after you put the book down. It is probably best described as an intelligent thriller, although that really does not do it justice, as Pattison weaves together a delicate fabric made up of many strands from the political to the personal to create an engaging story."
–The Irish News