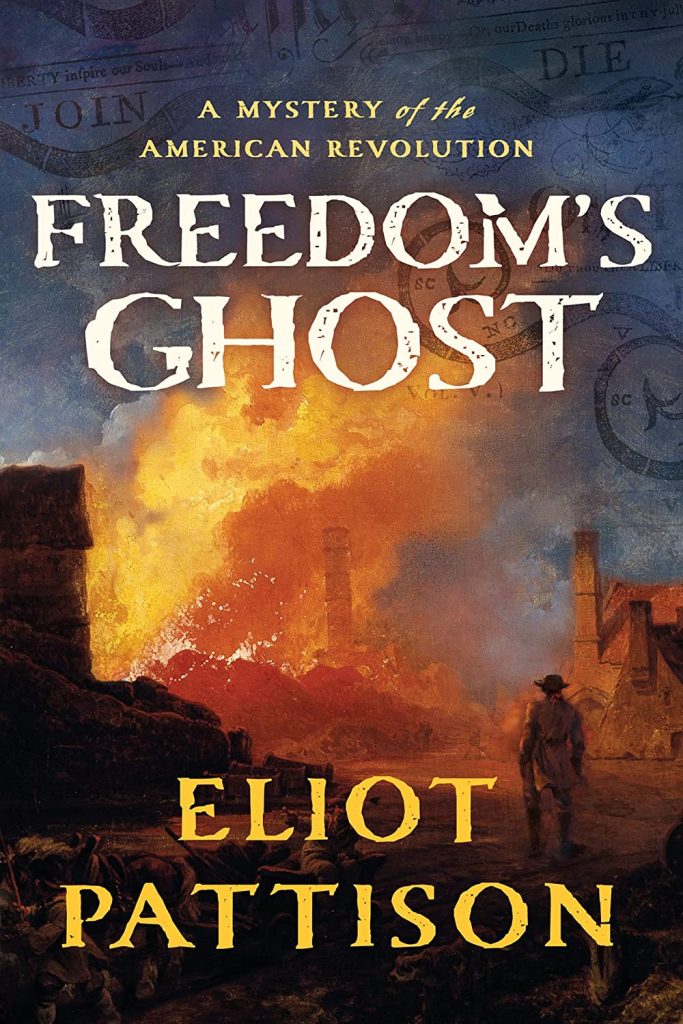 ABOUT THE BOOK
Counterpoint; October 24, 2023

As the drumbeat of the American Revolution grows ever closer, Scotsman-turned-American-patriot Duncan McCallum must navigate treacherous cultural and political waters if he's to secure a fighting chance for the fledgling nation in this gripping installment of the acclaimed Bone Rattler series
After narrowly avoiding death in London at th2 e hands of the king's secret agents, Duncan McCallum returns to colonial America only to discover that his troubles have followed him across the Atlantic.
The harbor town of Marblehead, Massachusetts, is a smoldering powder keg as British loyalists and advocates for liberty feverishly maneuver to determine the future of the colonies. When a Native American sailor is scapegoated for the gruesome murders of officers of the British occupation troops, McCallum will have to face off against ruthless adversaries close to the crown. Soliciting the assistance of such notable historical figures as John Hancock, Crispus Attucks, and John and Samuel Adams, McCallum must rely on his skills in science, subterfuge, and diplomacy to stave off a war for which America is not yet prepared.
Just as Patrick O'Brian's Master and Commander series took readers on a thrilling journey through the Napoleonic Wars, Freedom's Ghost and the Bone Rattler series offer riveting historical adventures embedding readers in the clashes and intrigue of the American Revolution.
---
MEDIA
"Another rousing adventure for Scotsman Duncan McCallum in pre–Revolutionary War America. . . . This historical mystery is good fun."―Publishers Weekly
"Pattison adeptly portrays the panorama of late–1700s Massachusetts, sprinkling in historical characters (e.g., John Hancock, John Adams), British spies, impressment, and more. Multiple plot threads run simultaneously, maintaining suspense as McCallum tracks a sadistic killer. . . . Pattison's latest will engage readers who enjoy historical crime fiction and novels about the American Revolution." —Booklist 
---
BUY THE BOOK
BUY FROM: Bookshop | Barnes & Noble | Amazon |
READER'S GUIDE
The cause of freedom for which Duncan McCallum has long struggled is facing its greatest crisis yet in 1770 Massachusetts. Newly returned from deadly intrigues in London, Duncan discovers that these same provocateurs have arrived in the colony, set on fomenting a preemptive war against the patriots through murder and subterfuge. Duncan's fiercely independent fiancée Sarah, raised by the Mohawk, sets her own defiant course in the midst of the British army occupation, smuggling in vital manufacturing secrets as well as eight runaway slaves. Duncan mounts a desperate secret defense of the patriot cause, aided by John Hancock, John Adams and his new friend Crispus Attucks. He is on the verge of stopping the ruthless London agents when he discovers Crispus dead on the bloody snow of the Boston Massacre and Sarah taken by the army to the hated tyrant General Gage in New York. With his small cohort of outcasts Duncan sets off to rescue Sarah only to discover he must save Manhattan itself.
FOR DISCUSSION
1. The ideal of freedom aspired to by John Hancock, John Glover, Crispus Attucks, the escaped slaves, and the Native Americans don't always seem to be the same. How might those differing views of freedom affect the foundation of a new nation?
2. Pattison has stated that Britain planted the seeds of rebellion by the types of people it pushed, to the American colonies, forcibly and otherwise. Do you see evidence of this in Freedom's Ghost?
3. How does Sarah Ramsey's Mohawk upbringing affect her perspectives, motivations and actions? Would the story be different if told from her perspective?
4.. "You have been out too long in this world." Conawago chastises Duncan when Duncan is slow to detect the true nature of the boneman Hugo. What does he mean? What is encompassed by "this world"? Why does Conawago say humans live in multiple worlds? Is the world in which native women sing to whales, for example, the same as the one in which colonists complain of taxes from London?
5. "Sins may take a twisted road," Corporal Rhys forlornly declares to Duncan, "but they will always catch up with a man." What are the different ways that sins catch up with characters in the novel?
6. The author has often stated that during this critical pre-revolution period colonists were in an "identity crisis" as they drifted away from their original British identity towards an untested, new "American" identity. What characters in the novel show signs of this identity crisis? The growing opposition of once-loyal citizens to the king's occupation troops is one example of this shift. What other signs of this identity crisis do you see in the novel's characters?
7.. As Duncan pauses over words spoken by Conawago, he recalls that "The old Nipmuc spoke not in terms of simple facts but in truths." What do you think this means? How might truth be different from fact?
8. Conawago, Pine, and other tribal members in the novel are well aware that their tribes are facing extinction. How do you think that affects their perspectives on the European colonials and the independence movement?
9, The author sharply contrasts the natures of mid-18th century Boston and New York. Which would you rather live in?
10. The novel offers several perspectives on Major General Thomas Gage, military commander for North America, who later becomes governor of Massachusetts. Did your view of Gage change as the novel progressed? Did you ultimately see him as a relentless tyrant? A man hard pressed to reconcile his honor, his passion, and his duty?
11. The author has written that historical fiction offers human connections to our past, enabling a deeper bond with its participants than that presented in classroom texts. Do you agree? Did you discover such a bond with any of the characters in Freedom's Ghost?
12. After reading the novel, who or what do you consider to be the "ghost" of the title? Does it refer to London's stealthy spy? To Crispus Attucks and the dead of the Boston Massacre? To Jacob Book? To the Highland victims of the Butcher Cumberland? To Duncan's secret role in protecting the cause of freedom? Could it perhaps refer to the elusive, ethereal nature of freedom itself?