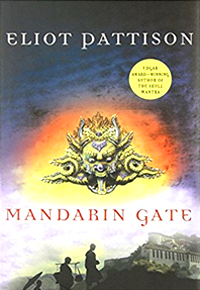 ABOUT THE BOOK
Minotaur Books; First Edition edition (November 27, 2012)
In an earlier time, Shan Tao Yun was an Inspector stationed in Beijing. But he lost his position, his family and his freedom when he ran afoul of a powerful figure high in the Chinese government. Released unofficially from the work camp to which he'd been sentenced, Shan has been living in remote mountains of Tibet with a group of outlawed Buddhist monks. Without status, official identity, or the freedom to return to his former home in Beijing, Shan has just begun to settle into his menial job as an inspector of irrigation and sewer ditches in a remote Tibetan township when he encounters a wrenching crime scene. Strewn across the grounds of an old Buddhist temple undergoing restoration are the bodies of two unidentified men and a Tibetan nun. Shan quickly realizes that the murders pose a riddle the Chinese police might in fact be trying to cover up. When he discovers that a nearby village has been converted into a new internment camp for Tibetan dissidents arrested in Beijing's latest pacification campaign, Shan recognizes the dangerous landscape he has entered. To find justice for the victims and to protect an American woman who witnessed the murders, Shan must navigate through the treacherous worlds of the internment camp, the local criminal gang, and the government's rabid pacification teams, while coping with his growing doubts about his own identity and role in Tibet.
REVIEWS
"Edgar-winner Pattison dramatically portrays the bitter oppression suffered by the Tibetan people under Communist China in his excellent seventh novel featuring Chinese investigator Shan Tao Yun (after 2009's The Lord of Death). Exiled to Tibet for having pursued the truth too zealously in an investigation that implicated high government officials, Shan now labors as an official ditch inspector. Even as his closest friend, Lokesh, believes that humanity's failure to be humane heralds the "end of time," Shan strives to protect the gentle Tibetan natives from victimization by their occupiers. His efforts to save Jamyang, an unregistered (i.e., "outlaw") monk he befriended, from a bounty hunter, land Shan smack in the middle of a murder inquiry after the mutilated bodies of two unidentified men and one Tibetan nun turn up near an old convent. Shan must exercise his atrophied deductive muscles from his years as an investigator in Beijing to spare the Tibetans reprisals. Pattison movingly delineates the difficulties of seeking justice under a police state in this brilliantly constructed and passionate whodunit. Agent: Natasha Kern, Natasha Kern Literary." –Publishers Weekly
AWARDS
DISCUSSION GUIDE
In this seventh of Pattison's Shan novels, the fragile harmony of Shan Tao Yun's world is shattered when a cherished lama abruptly commits suicide at Shan's side. When he discovers an abbess has been murdered with two strangers just hours earlier Shan embarks on a desperate quest for the truth behind the deaths. He quickly finds himself in a labyrinth of deception and lies that seem aimed at the destruction of the serene, traditional lives of his Tibetan friends. Imprisoned and tortured for his efforts, Shan gains unexpected help from Chinese exiles and enters into an unlikely relationship with one of the Public Security officers he has learned to detest. The shocking truth he finally uncovers threatens to change Shan's world forever. 
Pattison's Shan novels always make a strong statement about the Chinese government's treatment of Tibetans. What do you think Mandarin Gate has to say about that government's treatment of the Chinese people?
Early in Mandarin Gate Pattison introduces Chinese spirit tablets into the plot as a link into the exile community of Baiyun. He could have used another Chinese artifact for this purpose. Why do you think he chose the spirit tablets?
In what ways might the community of Baiyun and the Clear Water nomad relocation camp be characterized as other forms of prison?
When Shan arrives at his former gulag prison to visit his son, the author uses the phrase "once a prisoner always a prisoner" to describe Shan's initial reaction. What do you think he means by this?
Pattison has previously described Shan as a "Chinese lama." Do you think there is more of the Chinese or more of the lama in Shan?
In this, the seventh book in Pattison's Shan series, Shan finally has what might be characterized as a romantic relationship. Of Lieutenant Meng, Shan admits that he is attracted to whom she is but repulsed by what she is. What does this reveal about Meng? About Shan?
One of the exiled professors in the Vermilion Society observes that the truest histories are those built on a thousand tales of the common man. In what sense could Mandarin Gate be considered such a history? Why do you think several reviewers have stated that Pattison's novels give a more effective picture of life in modern Tibet than many nonfiction chronicles?
Near the end of the novel Lieutenant Meng murmurs a phrase her mother had used to describe her when she was younger: "little sparrow who dreams of swans." Why do you think Meng is repeating these words here?
As in most of Pattison's novels, there is no justice in Mandarin Gate except a makeshift justice created by characters who have been abandoned by their governments or their societies. Do you think such justice may mean different things to different characters in the book? Does Lokesh, for example, think about justice in the same way as Shan? Does Lieutenant Meng?
When Shan seeks to persuade Cora Michener to set aside her fears and help him, he tells her that in Tibet he has learned that "your life is not about what others do to you, it is about what you do to yourself." How might those words apply to Shan?
The Jade Crows play many roles in this book: they are surrogate bullies for the police, thieves and smugglers but also protectors and enablers of Shan's final plan. Ultimately do you see them more as criminals, benign villains, or victims?
Pattison has observed that in some ways his Tibetan settings are beyond time and place. Do you have this sense in Mandarin Gate? Do you think he is referring only to the lack of technology in many of his settings or is there a timeless aspect to certain themes in his book?