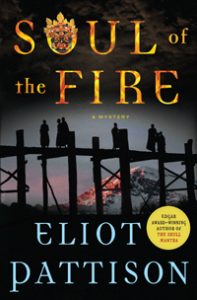 ABOUT THE BOOK
Minotaur Books; First Edition edition (November 25, 2014)
In Soul of the Fire, Edgar Award winner Eliot Pattison brings Shan back in a thriller that navigates the explosive political and religious landscape of Tibet.
When Shan Tao Yun and his old friend Lokesh are abruptly dragged away by Public Security, he is convinced that their secret, often illegal, support of struggling Tibetans has brought their final ruin. But his fear turns to confusion as he discovers he has been chosen to fill a vacancy on a special international commission investigating Tibetan suicides. Soon he finds that his predecessor was murdered, and when a monk sets himself on fire in front of the commissioners he realizes that the Commission is being used as a tool to whitewash Tibet's self-immolation protests as acts of crime and terrorism. Shan faces an impossible dilemma when the Public Security officer who runs the Commission, Major Ren, orders the imprisoned Lokesh beaten to coerce Shan into following Beijing's script for the Commission. He has no choice but to become part of the hated machine that is devouring Tibet, but when he discovers that the most recent immolation was actually another murder, he realizes the Commission itself is riddled with crime and intrigue.
Everywhere he turns, Shan finds new secrets that seem to lead to the last agonizing chapter of his life. Shan must make a final desperate effort to uncover the Commission's terrible secrets whose painful truth could change Shan's life – and possibly that of many Tibetans – forever.
AUTHOR'S NOTE
Reduced to their essence my Shan books are a lens onto what may be the greatest crisis of our age: how domestic partisan politics, geopolitical policies built around interest groups and global economic forces have created a moral blindspot in modern government. Governments bicker over petty issues and posturing among themselves while crimes against humanity continue unabated. Tibet is not the only example, it is just the most poignant example.

REVIEWS
"Pattison has created a work composed of contradictions. The story is at once as beautiful as the Buddhist poetry and rugged peaks of Tibet while being as ugly as the brutal actions of the Chinese oppressors. The work is a first rate mystery with many a twist including a surprise ending.
As the story opens, three individuals have been detained in Tibet and are being transported to an unknown destination by Chinese authorities. These include a young Buddhist nun named Yosen, an old man named Lokesh and central character Shan. Shan assumes that they are headed toward a prison or a hard labor camp – nothing new for him. The authorities have something different in mind for him.
They are transported to a former training center for monks turned into a massive prison and government facility. Yosen and Lokesh are quickly whisked away by guards. Shan has a different fate. While not being treated with respect, Shan receives less harsh handling. He finds that someone has chosen him to fill a position of reformed criminal on a religious commission dealing with the Tibetan people under Chinese rule. Shan quickly finds that the work of the commission is to condemn actions by the Tibetan population that the Chinese invaders seek to oppress. The Tibetan action that has the Chinese most disturbed is practice of self-immolation – setting fire to themselves in protest. This practice has increased in frequency…." — Mystery Reader
"Pattison's superlative eighth mystery featuring Shan Tao Yun (after 2012's Mandarin Gate) takes the former Beijing government investigator to Zhongje, a Tibetan community that the Chinese regard as a "showcase for the motherland." To Shan's astonishment, he's been tapped to serve on the People's International Commission for Peace and Order, "dedicated to eliminating the criminal acts of self-aggression that undermine harmonious coexistence in ethnic geographies." Shan, who has served time in labor camps, is to fill the designated slot reserved for a reformed criminal, but on his first day on the commission, he witnesses a self-immolation. His police training causes him to doubt that the death was a suicide, and his refusal to ignore the facts puts him at odds with his superiors, who don't want the truth derailing their political agenda. Pattison impressively combines a thrilling plot with a passionate denunciation of the Chinese oppression of the Tibetan people."           —Publishers Weekly