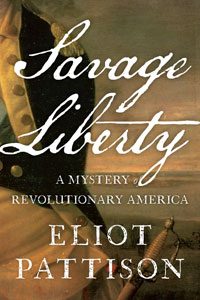 ABOUT THE BOOK
The fifth entry in Eliot Pattison's Bone Rattler series follows the exiled Scotsman Duncan McCallum along a tortuous path that will lead him to the American Revolution.
When a ship arriving from London explodes in Boston Harbor, both the peace of the colonial city and Duncan McCallum's life are shattered. Summoned by his new friend John Hancock to a beach awash with the bodies of the victims, Duncan discovers that the ship was deliberately sabotaged, apparently to cover the theft by French agents provocateurs of a secret document being carried to the Sons of Liberty. Hancock refuses to let him take his evidence to the authorities, for this is 1768 and relations with the government are so sour that officials are being hanged in effigy.
Fearing that the intrigues of Hancock and the Sons might set the colonies ablaze, Duncan relentlessly pursues the truth, only to be falsely charged with treason and murder. To escape the hangman's noose and restore his honor, Duncan has no choice but to follow a northbound trail of violence and deception while being relentlessly hounded by bountymen and vengeful soldiers. With the help of unexpected new friends, including Ethan Allen, aged natives, and outlawed Jesuits, he survives scalp hunters, imprisonment, and his own spiritual crisis, only to realize he cannot resolve the terrible crimes until he first understands the emerging truths about freedom in the American colonies.
AUTHOR'S NOTE
The American Revolution is taught to us in terms of well-chronicled battles and committees of Founding Fathers that were launched in April 1775 with what Emerson famously called "the shot heard 'round the world." Such lessons, however, teach us only about the final stage of the amazing story of the founding of the United States. They neglect the remarkable events and even more remarkable people who shaped the Revolution during the years before muskets echoed on Lexington Green.
Savage Liberty opens in 1768, when many of the inhabitants of the American colonies were struggling with what today we would call an identity crisis. They weren't thinking of themselves as Americans, they were just questioning what it meant to be British when their Parliament refused to treat them as full citizens. They were not seeking revolution, they simply wanted-and expected to be given-the same voice with their government that their counterparts in the British Isles enjoyed. Before they glimpsed revolution, these colonists first had to discover that they were American.
REVIEWS
Voted by Publishers Weekly as "One of the Best Books of 2018"
Voted by CrimeReads "1 of 21 Crime Novels Set During Revolutions and Rebellions"
"Pattison has few peers when it comes to integrating historical events into a complex but plausible whodunit plot." —Publishers Weekly (starred and boxed review)
"For those who enjoy politics, history, and hairbreadth escapes swirled together." —Library Journal
"This fifth entry in Pattison's Bone Rattler series advances McCallum's personal life as it exhibits the seamless blend of fiction and history that distinguishes this fine series. A timely reminder, as well, of what liberty meant to our forebears." —Booklist
"Prepare to be immersed in this story of early America . . . This is historical writing at its best, with plenty of action and suspense. It's difficult to put down." –Historical Novel Society