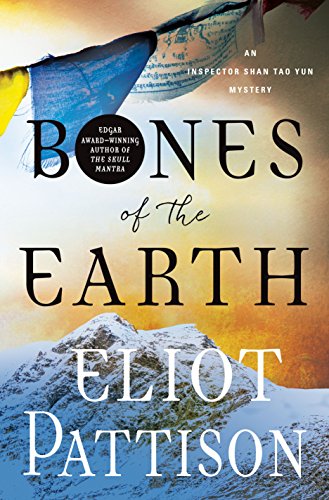 BUY FROM: IndieBound  | Barnes & Noble  | Amazon |
ABOUT THE BOOK
Minotaur Books; March 26, 2019
Bones of the Earth is Edgar Award-winning author Eliot Pattison's much anticipated tenth and final installment in the internationally acclaimed Inspector Shan series.
After Shan Tao Yun is forced to witness the execution of a Tibetan for corruption, he can't shake the suspicion that he has instead witnessed a murder arranged by conspiring officials. When he learns that a Tibetan monk has been accused by the same officials of using Buddhist magic to murder soldiers then is abruptly given a badge as special deputy to the county governor, Inspector Shan realizes he is being thrust into a ruthless power struggle. Knowing he has made too many enemies in the government, Shan desperately wants to avoid such a battle, but then discovers that among its casualties are a murdered American archaeology student and devout Tibetans who were only trying to protect an ancient shrine.
Soon grasping that the underlying mysteries are rooted in both the Chinese and Tibetan worlds, Shan senses that he alone may be able to find the truth. The path he must take, with the enigmatic, vengeful father of the dead American at his side, is the most treacherous he has ever navigated. More will die before he is able to fully pierce the secrets of this clash between the angry gods of Tibet and Beijing. The costs to Shan and those close to him will be profoundly painful, and his world will be shaken to its core before he crafts his own uniquely Tibetan form of justice.
MEDIA
Listed as #1 about Books on Tibet by Tibet Network
"Edgar winner Pattison incorporates the political realities of Tibetan life under Chinese occupation into a page-turning whodunit in his 10th Shan Tao Yun mystery (after 2017's Skeleton God). Shan was once a respected inspector in Beijing, until he investigated "the wrong people" and was exiled to a Tibetan prison. After he provided unofficial help to the area's governor, Colonel Tan, he was released and given constabulary duties. Needing Shan's help again, Tan promotes him to special inspector to facilitate his inquiry into the Five Claws Dam, the biggest construction project the Chinese government has ever made in the region. Meanwhile, Shan is forced to witness the execution of Metok Rentzig, an engineer assigned to the project, who was charged with corruption. Shan finds evidence that Metok was framed and judicially murdered, perhaps to cover up others' culpability in the deaths of two archeologists who were attempting to protect Tibetan antiquities from destruction at the dam site. Pattison has never been better in depicting a brave man's dangerous pursuit of justice in a "land of broken places and broken people." — Publishers Weekly *starred review*
Read this profile in Publishers Weekly.
Listen to an interview with Eliot Pattison and Suzanne Lang of A Novel Idea on the NPR podcast.
"Bones of the Earth is a haunting masterpiece of mystery that succeeds thanks to the author's meticulous research, attention to detail, and memorable characters, all of which come together to paint an unforgettable portrait of a "land of broken places and broken people." Highly recommended!"–Eric Peterson, Internet Review of Books
"The sheer intensity of the detail Pattison adds to the narrative is astonishing." –Fully Booked
"Shan is a memorable and heroic protagonist who we will definitely miss. Bones Of The Earth is a satisfying read and we highly recommended it to readers looking for mysteries happening in exotic locales." –Mystery Tribune
"Pattison's narratives are complex, deep, and subtle, investigating not only the mysteries set before the protagonist but also the geopolitical context out of which his story ideas evolve." –Buddhist Fiction Blog