Upcoming Events 2020
Thursday, November 19, 7 pm EST
A virtual conversation with Eliot Pattison about The King's Beast, hosted by the Mystery Lovers Bookshop: https://www.mysterylovers.com/event/eliot-pattison-event-kings-beast. Register here.
Friday, May 1, 3 pm EST
Virtual Author event with Eliot Pattison in conversation with Bill Peschel, hosted by the Mechanicsburg Mystery Bookshop.
If you're looking for great historical fiction, also be sure to check out "Stories of Inspiration" Vol 1., a collection of historical fiction writers, tracing their journeys from starting point to finished work. Edited by Suzanne Fox. Preface by Eliot Pattison.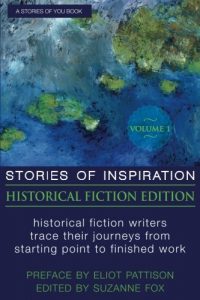 BUY FROM: IndieBound | Barnes & Noble | Amazon
Lastly, we are planning a European tour for Eliot's Inspector Shan series for this fall – if the current situation permits. Stay tuned for details!
Past Events 2018
Friday, June 8th – Sunday, June 10th
History Meets The Arts Festival
Lord Nelson's Gallery
27 Chambersburg St
Gettysburg, PA 17325
Saturday, June 2nd
Lahaska Bookshop
Peddler's Village Store
162 Carousel Ln & Rte 263 A
Lahaska, PA 18931
Wednesday, May 30th
The Mysterious Bookshop
1099, 58 Warren St
New York, NY 10007
Saturday, May 19th
Mystery Lovers Bookshop
514 Allegheny River Blvd
Oakmont, PA 15139